Matrikas IVF Centre


Matrikas IVF Centre
Doctors Available
1 Doctor Available
Establishment year

Year in 2017

Location

Hatigarh Chariali, Guwahati

Specialization

IVF Center
100%
Patients Recommended
About Matrikas IVF Centre
Matrikas is a Gynecology/Obstetrics Clinic in Guwahati, Guwahati. The clinic is visited by doctors like Dr. Juri Khanikar. The timings of Matrikas are Mon-Tue, Thu-Fri: 18:00-19:00 and Sat: 17:00-18:00. Some of the services provided by the Clinic are Adenomyosis Treatment, Reproduction, Artificial Insemination, Maternal Care/ Checkup, and Pregnant Women Counseling, etc. Click on the map to find directions to reach Matrikas.
Clinic Address
2nd floor, Mother Teresa Rd, Above HDFC Bank & Pragjyoti Eye Hospital, Hatigarh Chariali, Guwahati, Assam - 781021
Doctors in Matrikas IVF Centre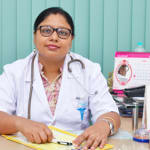 Dr. Juri Khanikar is a Gynecologist, Obstetrician and Infertility Specialist in Guwahati, Guwahati and has an experience of 11 years in these fields. Dr. Juri Khanikar practices at Matrikas in Guwahati.
Specialisation

Obstetrician

,

Gynecology

,

Infertility Specialist

,

Experience:

15 Years Experience

Location:

Hatigarh Chariali, Guwahati
---
Call Now
Matrikas IVF Centre Services
Antenatal and Postnatal Exercise/ Physiotherapy
Polycystic Ovary Syndrome in Adolescence
Vulvoscopy
Adenomyosis Treatment
menopause advice
Female Sexual Problems
Pre-Marital Counselling
Infertiliade
Menstrual Disorders in Adolescent Girls
PCOD/PCOS Treatment
Abortion / Medical Termination of Pregnancy (MTP)
Reproduction
Maternal Fetal Medicine
Pap Smear
Fertilisation In Vitro - Embryo Transfer (IVF - ET
Pre and Post Delivery Care
Hysterectomy (Abdominal/Vaginal)
Intracytoplasmic Sperm Injection (ICSI)
Colposcopy Examination
Natural Cycle IVF
Fertilization
Hysteroscopy
Infertility Evaluation / Treatment
Contraception Advice
Normal Vaginal Delivery (NVD)
Obstetrics Problems
Gynae Problems
Nutrition for Pregnant Women
Diseases in Pregnancy
Maternal Care/ Checkup
High-Risk Pregnancy Care
Obstetrics / Antenatal Care
Matrikas IVF Centre Pictures